In the last weekend of September 2013, a group of fans of eurobeat music held an awesome party with eurobeat, techno, trance, parapara and good fun. Not anywhere near the Netherlands, but in Barcelona, Spain. Which also explains why I'm posting in English this time. A lot of foreign, non-Dutchies are also interested in how it was.

So, in the very early morning of Friday, September 27th we left to the airport to get our 7 o'clock aeronautical vehicle to a warmer place in Europe. Just after 9 in the morning we arrived and at 10 o'clock we were at our hotel. Check-in started at 1 so we had some time to spare. We walked across town hoping to see at least something. It took us a while, and in the end we pretty much dodged all the cool buildings and attractions.
We got to meet up with Dani to grab some lunch and he showed us a cool shopping mall which was just around the corner of our hotel (which we missed). Afterwards Dani told us he would be practicing with some of his friends. Appearently there was this performance they were doing and had to practice it one more time. We loved to see it so we tagged along.
And yes, in front a a museum that was placed under ground level there were a lot of paralists dancing to their songs. CaixaForum has a nice entrance with a big glass wall. It reflects so they can see themselves in the mirror it creates. The museum didn't mind, because they are just an extra attraction to make the museum look hot and happening. We hung out there a bit before grabbing something to eat and spend our evening by ourselves.
Saturday was the big day for Gaijin!Fest. Because Dani had a lot to do, including picking up Domino from the airport, we had to amuse ourselves during the day. We went shopping, got lost and finally found our way and got back to the hotel to grab our stuff. Because I had to do a DJ set I brought my laptop with songs. Dani lent me his controller so I didn't have to bring that. The metro ride took a little longer than we expected and we arrived at the venue 20 minutes after we initially decided to be there.
The venue was like a big youth/art center with several floors. The concert hall was in the basement and big enough to allow well over 300 people in. There was a decent sized stage with an okay backstage area. You had to buy tickets from a table next to the door where you could also buy extra glow sticks and whatnot. Being a performing guest I didn't have to buy a ticket, but I wanted to help them all out so I paid the 3 euro that was needed to get in. Really cheap, if you ask me.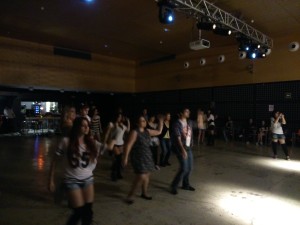 If you wanted to get a drink, there was a small bar. You couldn't pay there, however. You needed to get to a different table where a girl would sell you drink tickets. I'm sure she was really nice, but sadly she didn't speak any English. Oops!
The event itself started with an idol part. It was divided into several eras, from the 70's until the 2000's. There were a few girls on stage in typical Japanese outfits and doing idol dances. A DJ-girl was also waving her glowstick in the air and 3 guys were in the middle of the venue drooling over them. I think you have to be into this kind of stuff, and I know Charles van Vessem would totally love it, but besides him, I don't know a lot of other people who would. It became a drag and took about an hour. A lot of people were just waiting to dance parapara.
And then it started, the parapara-part. The practice we saw the day before finally found it's way to the stage. The History of Parapara was shown in typical dances of each era. From old-skool disco sounds with giant wigs (totally loved that!), to Juliana's Techno and finally the more recent booms like the Campus Summits. There are videos online of these performances.
Next up there was a demonstration of the special song Gaijin!Fest, produced by JJ's (Dani) and sung by BlueCherry (Itziar). They made a routine by themselves and did a little workshop for it. You can see it here. It's a super catchy song, and they made a fun routine to it. Compliments!
Then it was time for the main act. Alessandra Mirka Gatta aka Domino did her performance. Suddenly, everything was filled with energy and everyone had a blast. Domino, being her crazy self, bounced across the stage while the Barcelona parapara crew danced as background dancers. When she was done it was time for my entrance. I played a few euro tracks, trance, techno and some other eurobeat tunes to finish it. Even though I prefer people not to be on the stage so I can actually see people and see how they react, I just couldn't do anything and before I knew it the stage was filled with all the para-fans. This time I didn't really mind, because everywas was so keen on showing the dances they learned. The smiles on their faces where from ear to ear and that's the thing that counts!
When I was done there were free sandwiches for everyone. This was as a dinner. Domino sadly had to leave early because her flight left at 7 in the morning. We got to take a few pictures talked a little bit. MrTechpara, or Kevin in real life, also came to Gaijin!Fest. We had a good talk with him about what happens in Japan and how he sees a lot of things. While we were standing outside, strange things happened inside. This was the gyaru meetup with another deejay performing. I'm not into gyaru at all so I kept talking with Renate and Kevin outside, haha.
When it ended I helped cleaning up and told a lot of people to add me on Facebook, because I just can't remember all those names, haha.
On Sunday and Monday we walked around town some more, did some shopping and Dani gave us a tour across the city with all kinds of information about the Catalan history and of course projects by Gaudi. After eating paella we had to go home again, hoping we could come back for another good weekend later!
Concerning Gaijin!Fest, I loved quite a few of their ideas. Name tags/badges for artists and crew were done really well, and I think I'm going to copy that. Furthermore they stuck some random decorations on the walls which also was a simple but nice idea. It was really sad they didn't get a lot of people and I think a smaller venue would have been better. There was too much empty space this time. Also, skip the idol part. During the gyaru part the music that was played was similar to the songs we play at Deshima Sounds, but we don't do all kinds of games which break the flow of the evening. It was also too bad there wasn't any kind of schedule to follow. Sure, those never work out, but it's a good thing to have a plan and at least try to stick to it. These are a few points the organisation has to think about in their next event. Don't get me wrong, I had a great time and I really hope I can visit the next one! More events is always better!
And to all of you who didn't attend this pilot party, you don't know what you missed and you'd better all be there next time!